Great News. Rebuilding Together Solano County has a full calendar of community projects and events in 2015. – Download a Calendar –
Upcoming events include:
MLK 2015: RTSC is partnering with Kaiser Permanente for our 6th Annual MLK Workdays in Vallejo and Fairfield/Suisun City.
Workdays include:
January 17 from 8:30 – 11:30 a.m. – Fairfield/Suisun City MLK Prep at Crescent Elementary School, 1001 Anderson Drive.
January 17 from Noon – 4:00 p.m. at Salvation Army, 630 Tuolumne Street, Vallejo
January 18 from 9:00 a.m. – 3:00 p.m. @ Salvation Army, 630 Tuolumne Street, Vallejo.
January 19 MLK Workdays in Vallejo and Fairfield/Suisun City
Major Donors Include: Costco, Home Depot, Kelly Moore Paints, Medic Ambulance, M and M Sanitary LLC, Recology Vallejo, Solano Garbage Company, and Walgreens.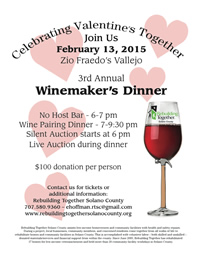 Rebuilding Together will be holding our annual fund-raising event, Celebrating Valentines Together, on Friday, February 13 at Zio Fraedo's Restaurant. This event offers a six course gourmet meal prepared by the chef of Zio Fraedo's Vallejo Restaurant and each course paired with a stellar wine selection.
All attendees will be able to celebrate Valentine's Day with their significant other as well as be excited that the funds raised support a local nonprofit organization in which the return for each dollar is six-fold.
For this event, our nonprofit is looking for event sponsors, and people to attend this event.
Rebuilding Together Solano County (RTSC) provides free home repair and rehabilitation services for low-income homeowners and community facilities. During a one day project, local businesses, community members, skilled tradesman and concerned residents come together from all walks of life to repair and restore low-income homes in our Solano County neighborhoods. RTSC is a local affiliate of Rebuilding Together USA, a national organization that includes more than 200 affiliates across the nation. In the past twenty years, more than 100,000 homes have been rehabilitated by Rebuilding Together volunteers.